Shore Excursion Injuries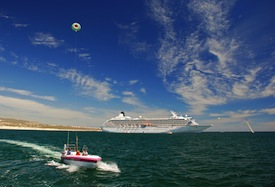 Injuries on cruise ships are only one hazard that passengers taking cruises face. Another lesser known, but equally dangerous hazard, arises from shore excursions and other land based activities that take place during a cruise, such as water surfing, canoeing, parasailing, or other recreational activities. Usually, these activities are organized by the cruise ship, which markets and promotes them as part of the "cruise experience." However, the actual excursion itself is frequently conducted - unbeknownst to the average passenger - by a foreign tour operator or company hired by the cruise line under a separate independent contractor agreement. That tour operator may or may not be required under its agreement with the cruise line to carry insurance in case a passenger is injured during the tour. The tour operator also may or may not agree as part of its contract to submit to the jurisdiction of a United States court. Most passengers who participate in shoreside activities and shore excursions assume that the cruise line is automatically responsible for their injuries. However, cruise lines such as Carnival, Royal Caribbean, and NCL often try to avoid liability by blaming the operator of the tour for any negligence. They also may attempt to avoid liability by having passengers execute releases that absolve them of liability, or claim that the case must be brought in the country where the excursion took place, in an attempt to avoid United States law and a trial in U.S. court. Fortunately, these releases are often poorly drafted, or ambiguous, and can be invalidated by a court if they are considered unconscionable. In addition, the cruise line may still be liable if it negligently selected, or failed to adequately investigate, the tour operator before hiring it. Knowing how to overcome these defenses, and what facts to look for during the discovery phase of a case to defeat them, is often critical to obtaining a successful outcome.
For this reason, it is vital that if you or someone you know is injured during a land based tour or shore excursion, it is important that you consult an attorney with experience in handling cruise line and shore excursion cases. The Pollack Law Firm located at the Miami area, has the experience and knowledge in handling these types of cases. David H. Pollack has practiced maritime personal injury law for nearly 20 years, and has represented injured passengers at both the trial and appellate level. If you have been injured during a land based or shore excursion, whether while on a cruise ship or at a resort, call and speak with one of our attorneys to find out what you can do.